New PvP function is to come. In this function, you can arrange your party with owned heroes and beasts to win points and rewards. No more wasted heroes or beasts. Now train your heroes and beasts to climb high in this arena.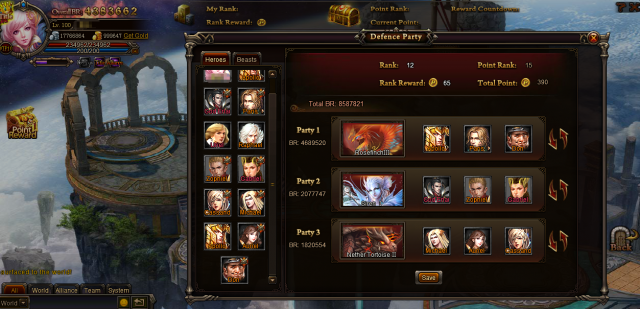 Rules:
1.Players of or above Lvl.50 and rank among top 50 in own server's Battle Shrine are qualified for Peak Arena. No less than 3 human members(heroes and character) are needed for Peak Arena battle.
2.Peak Arena opens every 2 weeks. During Saturday 8:00:00 to Sunday 23:59:59 (EST), players can challenge each other to gain points. During Monday 01:00:00 to 23:59:59 (EST), players can claim rewards;
3.Default rank is determined by the total BR of players' 9 Human members(heroes and character) and 3 beast members. The rank will be decided on 22:00(local time) on Friday;
4.Players can arrange 3 attack parties. Each party can include at most 3 human members and 1 beast.Whoever winning 2 out of 3 matches gets a victory;
5.Players can get point reward according to owned points;
6.Final reward is determined by cumulative points;
7.Note that your default rank and arena qualification are determined on 22:00 on Friday, which means you will not be able to participate in the Peak Arena if you get Lvl.50 or rank top 50 after 22:00 on Friday.