Now another new dimension to develop your character! Taboo Seal comes. Play Shooter to win various elements and upgrade your taboos.
★Taboo Seal
You will find this new function by clicking the 4th icon on the left to your character in Char interface.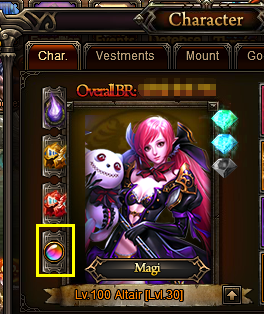 There are altogether 8 taboos and each taboo needs 5 different elements to upgrade, which can be obtained from daily event Shooter.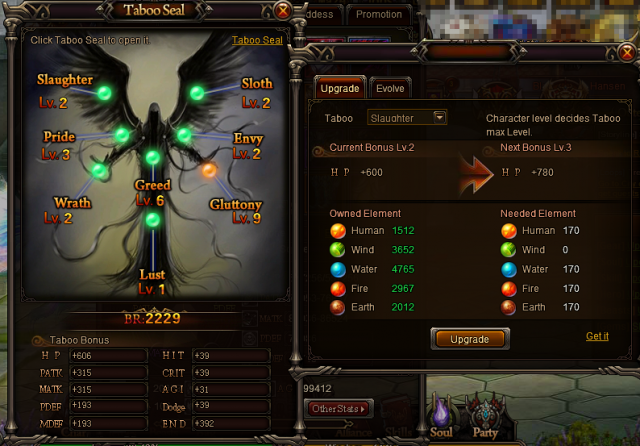 Taboo Pill is given in Shooter rank reward and can be used to evolve taboos. Taboo Pill is also available in Shop or future events.
About Peace Value
1)Every time you failed at evolving, the success rate of your next evolving attempt will be increased.
2)The higher the Peace Value is, the higher success rate you get for your evolving.
3)Once the Peace Value is full, evolving will have a 100% success rate.
4)Peace Value will be reset each day at 00:00.Please finish your operation before the reset.
About Shooter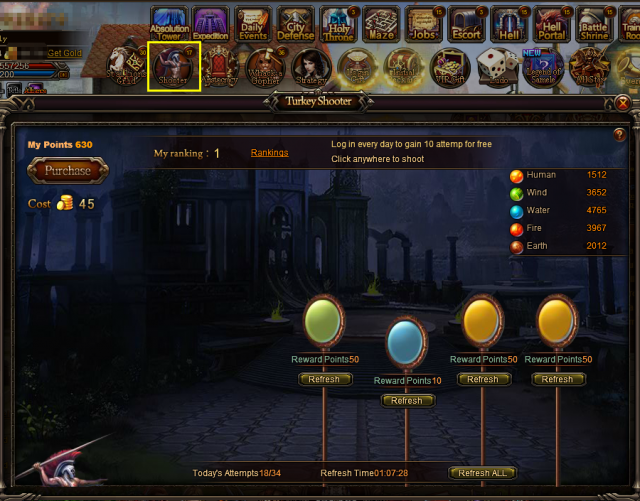 1.Each player has 10 free cast attempts every day. All remaining attempts will be cleared at 24:00 every day. Please use them in time!
2.Hit yellow target to get 500 Human elements,green target to 500 Wind, blue target to 500 Water, red target to 500 Fire, maroon target to 500 Earth elements, and pumpkin to 500 elements for each.
3.Players can use gold to buy cast attempts.
4.Better target can give higher points;players can use gold to refresh color of targets.(Red>Orange>Blue>Green)
5.You can earn extra 50,100 and 200 points with 2,3 and 4 combos.
6.Rank high to win more Taboo Pills.
7.You can have higher ranks than other players with the same points if you get the points earlier.