Welcome to Knights Fable, TO be a All-Star Player
Greetings from the Knights Fable team! We've been hard at work putting this new All-Star system for you. Today we're going to provide you with an overview. In this post, we'll tell you about the guiding lights of the All-Star system.
First of all, you can get into this function from this icon

When you reach Lvl.35 in Knights Fable, you will be able to join and enjoy the new system. All-Star system consisted of 4 parts. They are: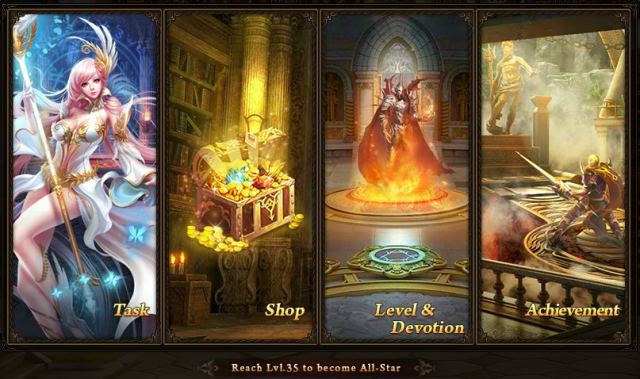 Task:
1.You need to finish tasks in order.EXP,Wisdom and other materials will be awarded after completion of tasks.
2.The highter the star level of task is , the more EXP and Wisdom will be awarded. You can spend silver to increasee task star level.
3.You can spend some gold to claim double EXP and Wisdom of the task after finishing it.
4.You can use "Refresh" to change tasks. After using up 3 free refreshes, you need spend gold to refresh tasks. You should claim your rewards before refreshing tasks.
5.Unclaimed 10-loop bonus reward will be cleared after rest.
6.You can do at most 10 tasks everyday.
Shop:
1.All-Star level determines the discount in the shop.
2.At All-Star lvl.1,get a 20% off;at All-Star lvl.2-4,get a 30% off;at All-Star lvl.5-7,get a 40% off;at All-Star Lvl.8-10,get a 50% off.
3.Buy items in shop to get All-Star points.
4.Items in shop will get refreshed each day at 8:00,12:00,18:00 and 22:00.
5.You can spend gold to refresh the shop immediately.
All-Star Level & Devotion:
1.The highest level of All-Star is lvl.10. Players can increase All-Star level by recharging,buying items in shop and finishing tasks.
2.Higher All-Star level grants cheaper items in shop and have highter chance to get high-quality tasks.
3.Devotion is divided into daily devotion,weekly devotion and monthly devotion. One log-in equals one devotion.
4.Fabulous rewards are available when increasing All-Star level or reaching certain points.
Achievement:
1.Reach certain achievement for fabulous rewards!
We wish you like this new system!