Luck and Guard, which one will you meet? Are you lucky enough to access the last Stage and take down legendary hero Apollo or powerful beast Unholy Blood Wolf? Be prepared for this adventure!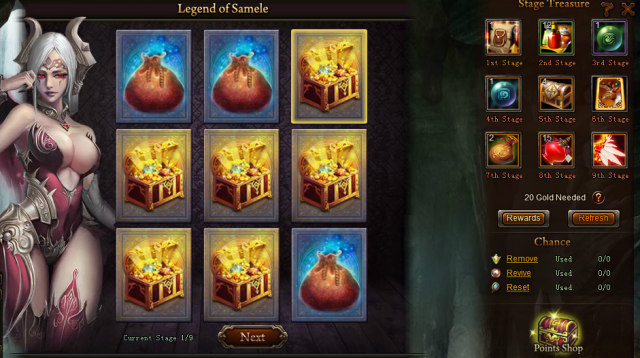 Rules:
1.Each player has 1 free attempt per day.
2.Legend of Samele consists of 9 stages, each level consists of 9 secret chambers that can be opened with respective treasures within.
3.There are 3 types of secret chambers in Legend of Samele: Guard Chamber: players will be killed upon opening the chamber, thus failing the stage. Treasure Chamber: players gain the reward of this stage after opening this chamber. Fortune Chamber: players gain a Fortune Bag after opening the chamber.
4.Players can use the "Refresh" button to alter the treasures of each stage, and can gain the respective treasure after opening the chamber.
5.Players can use the "Remove" button to remove a chamber with a guard, lowering the difficulty of the level.
6.After being killed, players can choose to revive, thus continue exploring the current stage.
7.After being killed, players can choose to reset, thus restart the current stage.
8.Players need to spend a set amount of gold to access Legend of Samele after the first free attempt.
Also, in this new update, we present all the players a modified
synth function
, where you can synth all the event shards from beasts, mounts, heroes to vestments. You can go to Mystical Trader- Jayce in City of Spirits and find "Synth Items". And pay attention to the
supplement to Expedition rule
: Players who reach level 60 need to wait till the next day to access Expedition. The earlier players level up, the sooner you can participate in this amazing feature.
The update will come on April 10th and will not affect your in-game progress! Simply refresh the browser page after the update is complete! Wish you like our new function!