Knights Fable v3.4.1: Specific event at thanksgiving day.
We will be updating Knights Fable to Version 3.4.1. All servers will be updated to v3.4.1 on November 26th. The update will not affect your progress in game, to enjoy the update, simply refresh the game page after the update is complete!
Hot event:
1.Specific event for thanksgiving:
The annual thanksgiving event comes again, Knights Fable prepared a series of hot events to celebrate it.
All for one:
Finish required tasks during this event to get points. Points can be used to exchange turkeys, and turkeys can be used to exchange special rewards. For each single player, more individual points equal to more rewards. At the time of Thanksgiving, if all players at the same server pool their efforts together to earn the required reward, then the specific thanksgiving gift will be available in game for all players.
Blessings:
During the event, each player has one chance to send out a blessing which will appear at the upside of game interface.

Note: The ranking list can only show 51 players, but all players who participate in this event will receive related rewards.

Turkey shooter: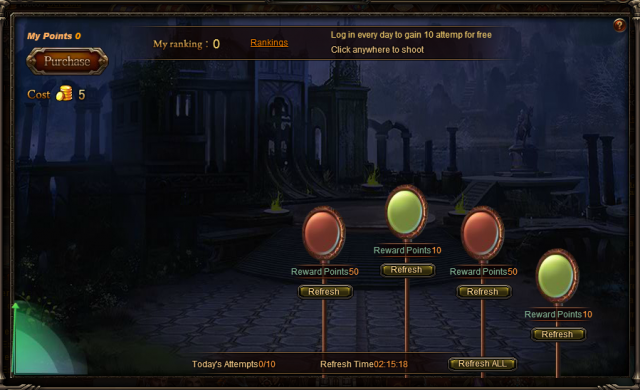 Rules:
a. Each player has 10 free cast chances every day. Remaining chances will be cleared at 24:00 every day. Please use them in time!
b. Players can use gold to buy cast chances
c. Better target can give higher points; players can use gold to refresh color of targets.(Red>Orange>Blue>Green)
d. Players will have chances to get lucky target and win turkeys from it!
e. You can earn extra 50,100 and 200 points with 2,3 and 4 combos.
f. You can have more turkeys with higher daily ranking and overall ranking.
g. You can exchange items with turkeys at Thanksgiving shop.
New mount: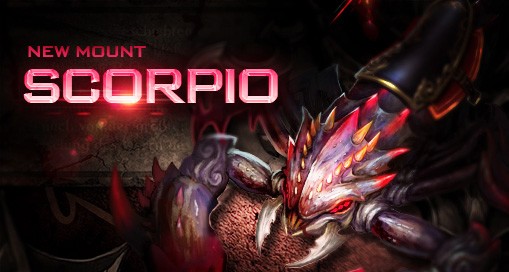 Scorpio mount with 4320 BR is the best reward at this event.
Improvements:
1.Added inheritance orb at D-dragon shop.
2.Activated hero at hero collection automatically, even those heroes that have been dismissed.

Bugs:
1.Fixed the bug that Lvl.6 hell gems drop at Lvl.7 Hell chamber.
2.Fixed the bug of unstable BR of heroes after being activated at hero collection.