We will be updating Knights Fable to Version 3.4. All servers will be updated to v3.4 on November 21st. The update will not affect your progress in game, to enjoy the update, simply refresh the game page after the update is complete!
New feature:
1.Hero collection
While on your Knights Fable journey, you can recruit many brave heroes to fight by your side, but for each fight, you can only choose two heroes to face brutal enemies with you. How about the others? Don't worry! Hero collection will help you discover that whether the hero deployed to the party or not, he can still give you a hand during battles.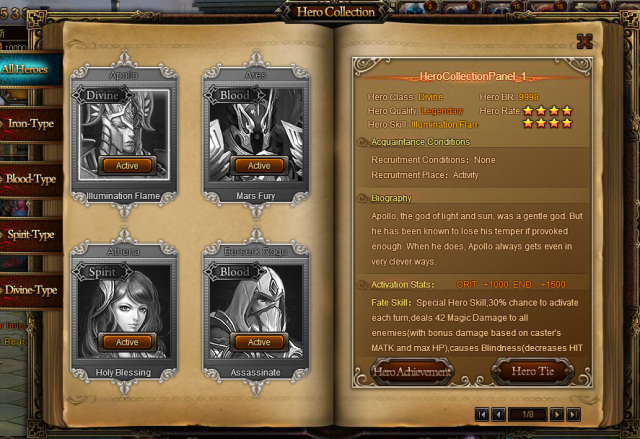 a.Activating a hero will give you bonus stats.
b.Activating heroes of the same type will give you bonus stats.
c.Activating heroes in a particular group will give you bonus stats.
2.Added the 7th chapter of Hell.
3.Added more new objective quest with grand rewards at "target" system.
Improvements:
1.Made improvement about new CSA system.
a.Added 2 purchase chances of CSA for each player each day.
b.Added harsh punishment rule to prevent from AFK at CSA. If the player earned less than 100 ore point at CSA, there would be more 1 hour CD time for him.
c.Boss will appear when two teams receive 2000 points totally.
d.Added Holy force in CSA to protect weak players from being defeated too many times.
2.After the update, the recourse from storyline won't be counted in monopoly.
3.Made improvement about Beast interface. You will be directed to the deployed beast slot when you open the beast interface.
4.The summonable beasts will be marked at real time on the beast window as soon as you receive summon scrolls from exploration.