We are excited to announce that we will release new system, Aristocracy. It will be a beneficial play mode for all the free players, the update will not affect your progress in game, simply refresh the game after the update complete. Let's have a look at the details about the update. We think that the new version will bring to all players better experience in game.
Update time:
2014.10.17
Server:
all servers
New system:
Aristocracy
It will be the cross-server and singal server playmode. There are 3 titles, Duke, Count and Viscount, only the player who get most prestige will obtain the Duke title! After that, the players who have obtained the title will received bonus stats and daily rewards, what's more, the player with Duke title has the previlege to send free gift to all players in Knight's Fable.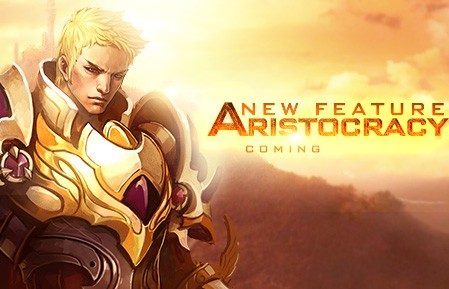 Rules:
1.The title is based on the Prestige ranking of last week.
2.The Prestige rank is determined at 22:30 every Sunday, and the title status will be updated.
3.The top 1st player in cross-server prestige ranking with at least 500,000 prestige will be titled " Duke"
4.The Great's Privlege cannot be used during 22:30 to 24:00 every Sunday,but the meeting attempts can still be added.
Bonus stats:
Duke: ATK+3000,DEF+3000,HP+15000 (Rank at first place at the cross-server player list with total 500,000 prestige )
Marquis: ATK+2000,DEF+2000,HP+10000 (Rank at the first place at each single server with total 200,000 prestige)
Count: ATK+1500,DEF+1500,HP+7500 (Rank at 2nd to 5th place at each single server with total 100,000 prestige)
Viscount: ATK+1000,DEF+1000,HP+5000(Rank at 6th to 9th place at each single server with total 50,000 prestige)
Improvements:
1.Made some improvements about Monopoly.
2.Made improvement about Four new heroes' buff special effect.
3.Changed the cost of transferring Totem.
4.Added the suggestion window to guide players how to become stronger.