We are excited to announce that Knights Fable v2.4 is due to come out soon! Same as before, we would like to bring to all players a new system in game and some improvements of the old playmode. The Carnival will offer all players a chance to draw cards, and the cards will help all players exchange heroes, beasts, even the goddess of their choice! We are also planning to modify the Alliance war's playing mode according to the players feedback! We are hopeful that the upgrade will offer all players an enhanced game experience in Knights Fable! The upgrade will not affect your progress in the game, it will simply refresh the page after your current level is complete!
Update time:
9.5
Server:
All servers
New feature:
Carnival
Players can obtain cards in the Carnival by selecting the Magic Hat tab in the interface of game. There are three types of magic hats: There's the Common Hat, Deluxe Hat and, finally, the Mystery Hat. One Common Chest costs 10 Gold, one Deluxe Chest costs 30 Gold, and one Mystery Chest costs 100 Gold. You can get offered 3 Common Hats for free each day. Once you've drawn a set of cards from a hat, you can exchange it for other awesome rewards! Your remaining cards can be exchanged for points. Points can be traded for specific Cards. This will allow you to finish your card sets more efficiently.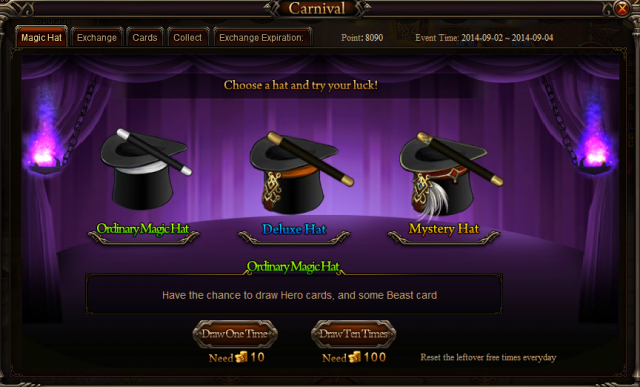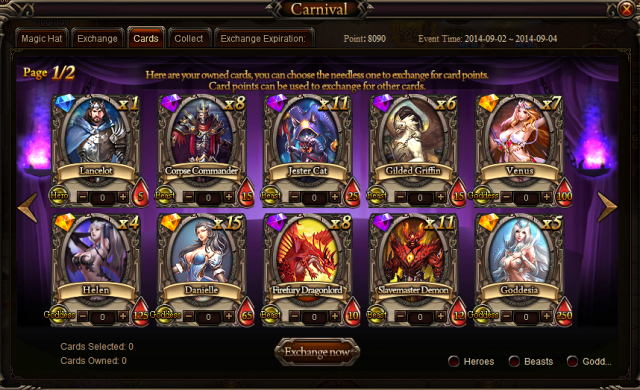 Reward: New beast will be the big bonus during Carnival.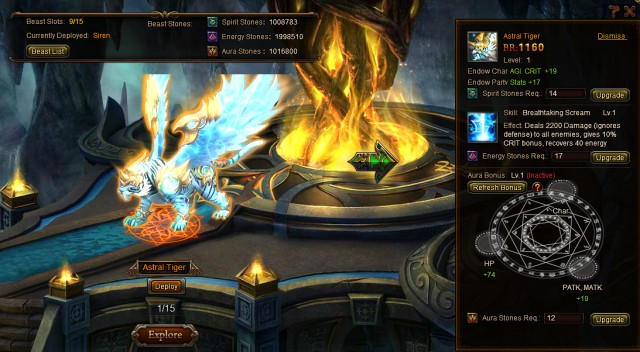 Forge system of Gear
The previous update had brought the Gear show to all players, now the forge system comes! Gear materials can be found in Alliance war and Hell portal.
Magic crystal shop
Added a magic crystal shop at Hell Portal where players can buy Gear materials. Killing legendary minion will get magic crystals.
Condition: Open at Lvl.50
Star Atlas
1.Added the synthesis of star atlas.
Improvement:
Alliance war
As some players complained about alliance wars being unfair toward the weak alliance attempting to occupy the city, thereby negatively affecting the game experience, we decided to change the playmode in alliance in game. After the update, before the alliance war, all participant alliances will apply for the chance to join in on the alliance war! After the update, Alliance will happen every 4 days.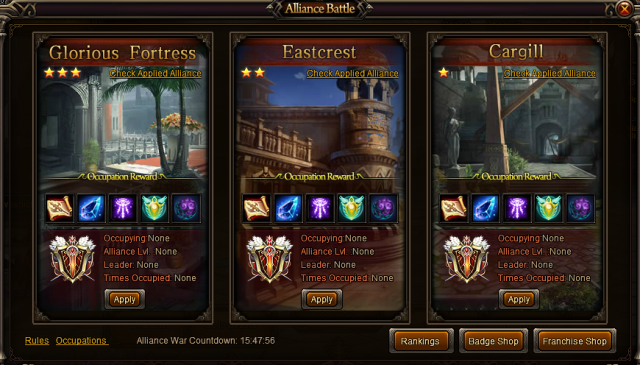 After the update, all alliances can check the opponents before the battle and choose the best suitable city for them to try to take.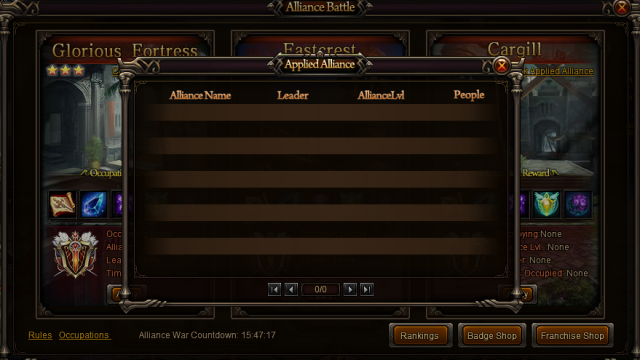 Bug:
1.Fixed the bug about password about the training room.
2.Fixed the bug about the item name.
3.Fixed the bug of Lilith and Ragged storm's skill.
4.Fixed the type of Ragged storm.
5.Fixed the bug of wings of fighters.
6.Increased the rate of dropping magic crystal at Hell Portal.
7.Changed the return reputation of Sigurd to 2700 Leg reputation.
8.Fixed the bug of dropping Lvl.2 INT Potion.