We have noticed that many players are confused about some functions of the game, for example some people don't know how to upgrade levels efficiently. Such confusion may affect player experience! To resolve this, we asked veteran players to share their strategies on our forums. Based on their suggestions, we have added some functions into the game! The update will not affect your in-game progress; simply refresh the game page after the update and continue playing!
Update time:
August 15th
Server:
All servers
New Function:
1. Strategy NPC added
We have been organizing the "Master of strategy" event in our forum for over a month now, and we will continue this event for a long time in the future. We have already collected some popular strategies and want more players to benefit from them!
Details:
1. You can find the Strategy icon at the upper right corner of the game window.

2. In the strategy menu you will find a selection of Guides. These strategies are edited by players from our forum, and we will keep adding more regularly. These guides will make your gameplay experience even more rewarding!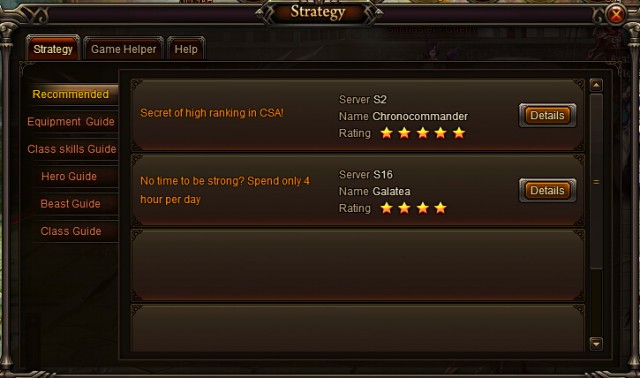 Improvement:

Hero Demonization UI
1. Until players receive a title, the title section will be grey.
2. Each player will get 30 free variation dust at the beginning of playing Hero Demonization.
3. The available titles will be listed from best to worst, with the best option at the top.
4. Added description to instruct players on how to get variation dust and INT Potions.
5. Added players' saved INT Potions at the upper left corner of the UI interface.
6. More info will appear when the materials required for promotion are insufficient.
7. Added Hero type information next to the Hero's image in interface.
8. After the update, the title will be white, green and blue for heroes from Rare Tavern; green, blue and purple for heroes from Epic Tavern; blue, purple and orange for heroes from Legendary Tavern.


Character Promotion
1. After updating, clicking the "Get" button next to Holy Soul will immediately send the player to Holy Throne.
2. After learning new talent skills, the relevant icon's color will change immediately.
3. Talent Skill level will appear at the upper righter corner of talent icon.

City Defense
1. Decrease Gold for extra attempts.

Bugs:
1. Fixed the frozen talent skill release during battles.
2. Fixed some bugs in Lucky Strike
3. Fixed some bugs in Hero Inheritance.