The Knight's Fable will begin on the 29th of May 9:00 EDT. Players will be rewarded for great feats such as leveling up Characters, Heroes, and Beasts; recruiting rare and powerful Heroes, enhancing equipment, decorating cities, ranking highly on the Battle Ranking and Level Leader Boards, and gaining victories in the PvP Arena!
Knight's Fable promises to bring players a brand new experience, full of features that are widely unknown to conventional MMORPG's. After the first announcement, Knight's Fable received attention from global media for its special combat system, beautiful hand drawn art work and unique features!
"What we are trying to do with Knight's Fable is combine MMORPG mechanics that players love with features that are also appealing to casual gamers." Said Frances Sun, product manager for Knight's Fable. "Knight's Fable will allow players to develop cities, beasts, heroes, and equipment while offering a lot of mini-games and events that are more likely to interest casual players."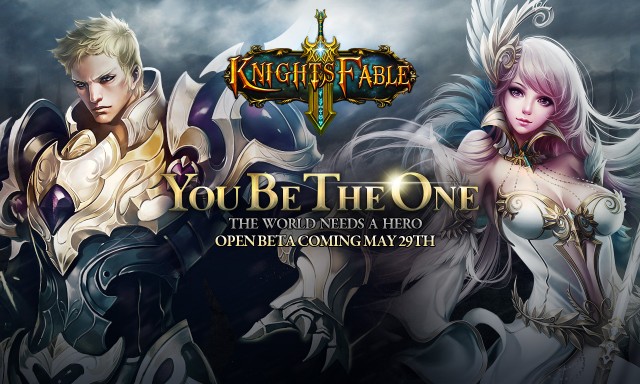 Anyone interested in Open Beta should immediately sign up for an account at Knight's Fable's Official Site.See you all in the Open Beta!
Now, we'd like to release information on the following features:
Fun Mini-games
Be it jewel smashing puzzlers, memory games, reaction games, or quizzes, Knight's Fable is sure to cater for any casual player's needs. Players can take a break from saving the world and indulge in mind settling mini-games that offer fabulous in-game rewards.
Thousands of Items and Equipment
Raid dungeons and scour the lands in search of epic loot! Recover ancient gear and piece together equipment sets to gain insane bonuses! Refine, forge, and insert rare gems into your gear to lay waste to the evil and rivals that stand before you!
Capture and Train Wild Beasts
Capture exquisite beasts and train them to fight alongside you! Each beast has its own unique skills, auras, and stats! Capture the rarest beast to become a true master!
Recruit Rare and Powerful Heroes
Visit the realm's many taverns to recruit hundreds of unique Heroes, each with their own skills, stats, and special abilities! Level your heroes, teach them new spells, and form your ultimate battle party to fight against evil and other players in the arena!
Online Arena
Fight head-to-head against other players and teams in the arena, team arena, cross-server war, and the battle shrine! Refine your technique and reign supreme over the realm!