Event
: Slots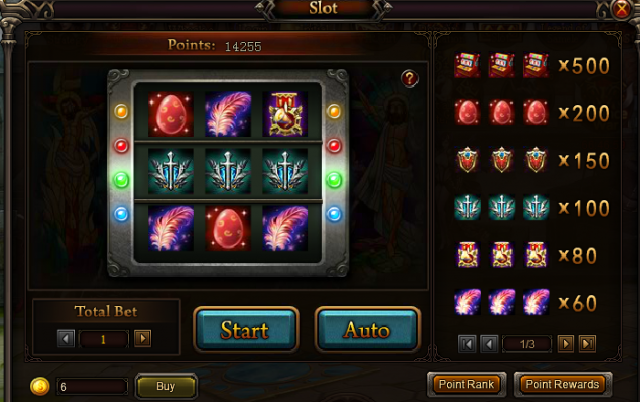 Duration: April 29th to May 5th
April 29th to May 3rd: spin the slot to win points
May 4th & 5th: claim total ranking rewards!
Rules:
1.In Slot,you can spin different items and win points according to the combos. You can also collect Turkeys from this event to exchange for your wanted items.
2.You can bet before every spin, and need to cost corresponding Slot Coins. In other words: the amount of coins you need to pay is equal to the bet you made. Higher bets give higher chances of high-point combos.
3.Special rewards will be given when you have 3 slots or Turkey Eggs in your combination.When you get 3 slots, you get 1 Lucky Star; when you get 3 Turkey Eggs, you get 1 Delicious Turkey. Different bets give different amounts of rewards. For example, if you have 3 Turkey Eggs with a 5 Bet, you will get 5 Delicious Turkeys. Note that you can only get at most 1 Lucky Star per spin no matter what bet you make
4.Five free chances are given every day. You can also collect more coins from shop and events.
5.Points will be given according to listed combos.Your earned points will be listed point*bet. After reaching required points, you can claim rewards from Point Rewards and Point Rank.
View Slots Rewards:
Total Rewards: