Event 1: Infinite Journey
Challenge evil bosses in Infinite Journey to win fabulous rewards.
Duration: Jan.31st to Feb.4th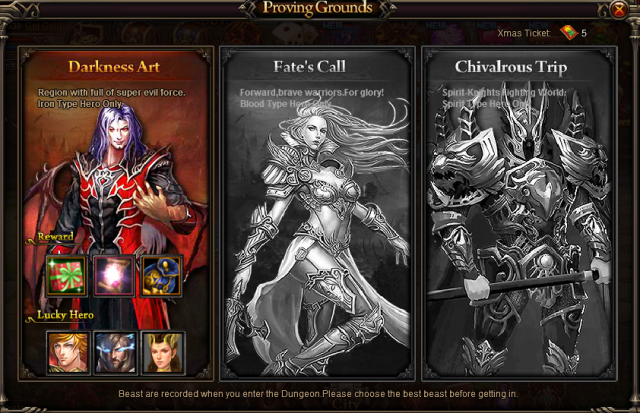 Rule:
1.Each dungeon requires different types of heroes. Each stage requires certain level to unlock. Stage with higher difficulty offers better stage rewards.
2.Each day will only have one dungeon opened. Prepare your heroes for different requirements everyday.
3.For each dungeon, system will randomly choose 3 Lucky Heroes. More deployed Lucky Heroes grant better lucky rewards. When 3 Lucky Heroes are deployed, one Christmas Badge is guaranteed in lucky rewards.
4.Five free attempts are given each day. You can obtain more attempts by using Xmas Ticket. 1 Xmas Ticket gives 1 attempt. Note that your attempt will be reset everyday. So please use up all the attempts before server reset.
Event 2
: Lucky Strike
Spin the Lucky Strike to win fabulous rewards!
Event duration: Jan.31st to Feb.6th
Duration of spinning wheel: Jan.31st to Feb.4th
Time of reward claiming: Feb.5th to Feb.6th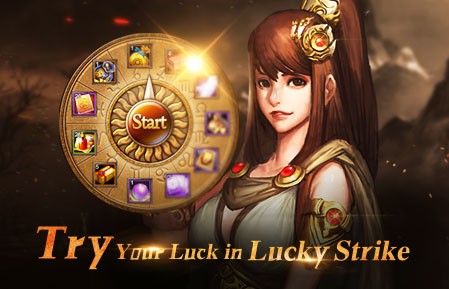 Rules
There are three wheels, the Silver Strike, the Lucky Strike and the VIP Wheel.
1.Spinning the Silver Strike costs 50000 silver. Each player can spin at most 20 times each day. (Spin of Silver Strike will not be counted into the rank.)
2.Spinning the Lucky Strike costs 1 Lucky Voucher per time.
3.Spinning the VIP Wheel costs 10 Lucky Vouchers per time.
Only VIP3 players and above may use the VIP Wheel.
4.You can spend Lucky Card to purchase special items in Shop of Luck.
5.The remaining Lucky Vouchers can be used in future Luck Strike events.
6. Lucky Value: every spin will give 10 value. Once the value reaches 100, the next spin will get doubled rewards! Lucky Value will get reset everyday at 0:00.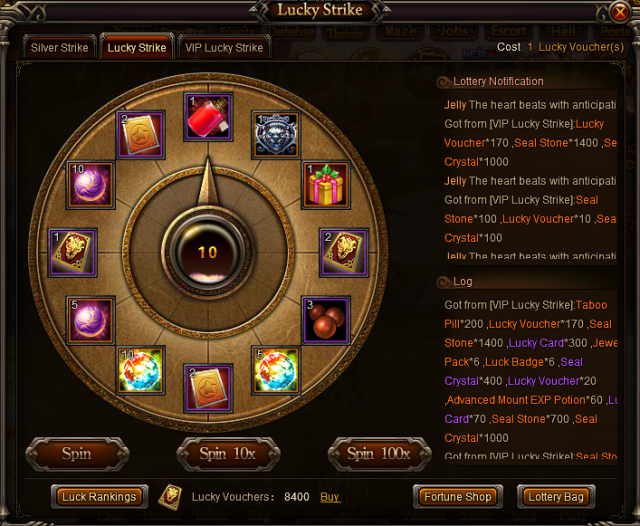 Ranking Rewards:
1. Daily Top 5 wheel spinners who have used at least 80 vouchers will get extra rewards.
Daily Ranking

Used at least 80 vouchers Daily

Used at least 120 vouchers Daily

1st

Strengthening Stone* 300

Lucky card * 20

Absolution Orb*150

2nd

Strengthening Stone* 250

Lucky card * 15

Absolution Orb*130

3rd

Strengthening Stone* 200

Lucky card * 10

Absolution Orb*110




4th

Strengthening Stone* 150

Lucky card * 8

Absolution Orb*90

5th

Strengthening Stone* 100

Lucky card * 6

Absolution Orb*70



2. At the end of the event, the Top 5 wheel spinners who have used at least 200 Lucky Vouchers will have a chance to get extra rewards. Spin at least 260 times to win super rewards!
Total Ranking
Used at least 200 vouchers Totally
Used at least 260 vouchers Totally
1st
Luck Badge*1
Melee Badge*500
Knights Silver Star*1
2nd
Luck Badge*1
Melee Badge*400
Knights Silver Star*1
3rd
Luck Badge*1
Melee Badge*300
Knights Purple Heart*2
4th
Cheat of Seal Lvl.7*1
Melee Badge*200
Knights Purple Heart*1
5th
Cheat of Seal Lvl.7*1
Melee Badge*100
Knights Purple Heart*1

Note:
Luck Badge can be used to exchange special items at Event menu.
2. Lucky Card shop
| | |
| --- | --- |
| Goods | Cost |
| Hero Stamper | Lucky card x 10 |
| Chest of Seal Lvl.5 | Lucky card x 150 |
| Lvl.80 Weapon Schema | Lucky card x 30 |
| Lvl.80 Helm Schema | Lucky card x 30 |
| Lvl.80 Armor Schema | Lucky card x 30 |
| Lvl.80 Legguards Schema | Lucky card x 30 |
| Lvl.80 Boots Schema | Lucky card x 30 |
| Lvl.80 Ring Schema | Lucky card x 30 |
| Lvl.80 Necklace Schema | Lucky card x 30 |
| Lvl.80 Talisman Schema | Lucky card x 30 |
| Human Element*5000 | Lucky card x 6 |
| Wind Element*5000 | Lucky card x 6 |
| Water Element*5000 | Lucky card x 6 |
| Fire Element*5000 | Lucky card x 6 |
| Earth Element*5000 | Lucky card x 6 |
| Beginner Mount EXP Potion | Lucky card x 1 |
| Strengthening Stone | Lucky card x 1 |
| Chest of Seal Lvl.1 | Lucky card x 4 |
| Chest of Seal Lvl.2 | Lucky card x 11 |
| Chest of Seal Lvl.3 | Lucky card x 34 |
| Chest of Seal Lvl.4 | Lucky card x 80 |
| Meele Badge | Lucky card x 1 |
| Beast Stone Casing Chest | Lucky card x 10 |
| Seal Stone | Lucky card x 9 |
| Seal Crystal | Lucky card x 18 |
| Mount Orb | Lucky card x 3 |
| Lucky Orb | Lucky card x 3 |
| Superior Chest of Skill Tomes | Lucky card x 100 |
| Lucky Box | Lucky card x 30 |
| Lucky Badge | Lucky card x 100 |
| Lvl.3 Gem Bag | Lucky card x 24 |
| Lvl.4 Gem Bag | Lucky card x 70 |
| Lvl.5 Gem Bag | Lucky card x 200 |
| Lvl.6 Gem Bag | Lucky card x 500 |
| Cards of Wisdom | Lucky card x 10 |
| Inheritance Orb | Lucky card x 10 |
| INT Potion | Lucky card x 1 |
| Ice Crystal | Lucky card x 16 |
| Legendary Reputation Pack | Lucky Card × 2 |