The year of 2015 is to end, yet a brand new year is coming.
In this year, Knight's Fable grows with the support and love of all KF players.
Here, we wish you all a merry Christams.
Have a look at what we provide with you this Christmas.
Event 1: Xmas Journey
Challenge evil bosses in Xmas Journey to win fabulous rewards and Christmas Badge.
Duration: Dec.26th to Dec.31st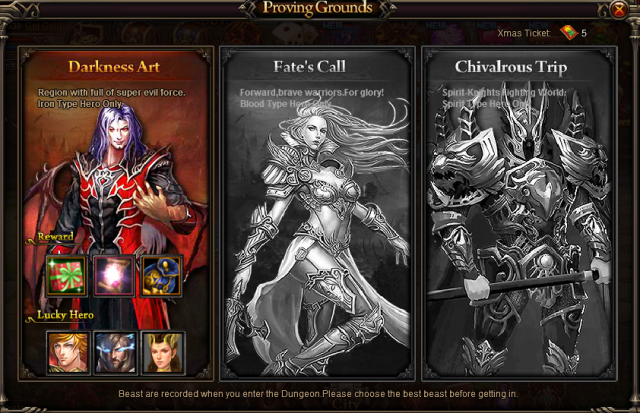 Rule:
1.Each dungeon requires different types of heroes. Each stage requires certain level to unlock. Stage with higher difficulty offers better stage rewards.
2.Each day will only have one dungeon opened. Prepare your heroes for different requirements everyday.
3.For each dungeon, system will randomly choose 3 Lucky Heroes. More deployed Lucky Heroes grant better lucky rewards. When 3 Lucky Heroes are deployed, one Christmas Badge is guaranteed in lucky rewards.
4.Five free attempts are given each day. You can obtain more attempts by using Xmas Ticket. 1 Xmas Ticket gives 1 attempt. Note that your attempt will be reset everyday. So please use up all the attempts before server reset.
Event 2: Xmas Tree
Duration: Dec.26th to Dec.31st
Time to put on some socks and make a wish.
Each time you put on a sock, you can get a random reward from the reward poll. Note that each reward has a limited stock everyday. The stock will be reset everyday. Socks can be gained from in-game benefits and event reward. You can also buy socks with gold.
1000 gold and Xmas Weapon Pack are available on Xmas Tree!
Event 3: Ludo
Play Ludo, Roll Dices and Win Rewards!
Duration: Dec.26th to Dec.1st
From Dec.26th to Dec.30th, play Ludo and gain resources;
From Dec.31st to Jan.1st, claim overall ranking rewards!
Rules:
1. Dices can be acquired by purchasing, completion rewards and events. Lucky Dices are available in Mystical Shop, completion rewards and events.
2. Your piece walks according to the number on the dice. The points you get equal to the moves your piece walks.
3. You have a choice of any move(s) you want from 1 to 6 with each Lucky Dice.
4. You get points accordingly while your piece moves forward. No points added if your piece moves backward. Forward: from "Start" to "Final". Backward: from "Final" to "Start".
5. If the Dice number is higher than the moves you need to take for the Final, you will only arrive at the Final and the points you get are the moves you actually took.
6. Each move may trigger a kind of event.
7. You can claim your Completion Reward right after each round is completed. Ranking Reward can be claimed only at the last day of event.
8. If you use "Bulk 5 times" when you are close to Final and actually use less than 5 dices and get to Final successfully, you will pay only the dices you used.
9.If you use "Bulk 5 times" then all the fighting you meet will be considered as victory; mystical shop will show up for purchasing if you ran into Mystical Shop event.
10. Fight reward, Ranking reward and Completion reward will be saved in temporary bag. Please collect them before the end of event.

About Ludo Events: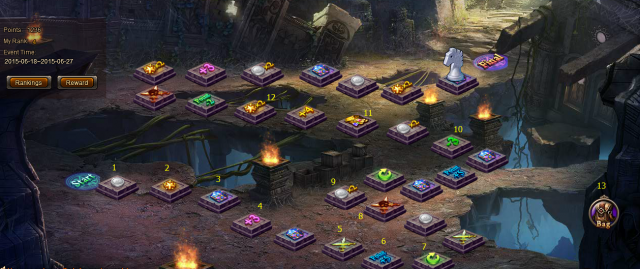 1.Silver Event: 50,000 silver bag*2
2.Wisdom Event: 10,000 wisdom card*2
3.Item Event: may have chance to get Seal Stone*2, Seal Crystal*1, Int Potion*4, Lucky Orb*2, Legendary Reputation*5 or Melee Badge*6.
4.Forward Event: your piece will move forward.
5.Monster Fighting Event: you will fight against monsters and win rewards after successfully defeating them, and will go back to Start if lose.
6.Point Addition Event: your Ludo points will be increased correspondingly.
7.Restart Event: restart from the Start.
8.Boss Fighting Event: you will fight against bosses and win rewards after successfully defeating them, and will go back to Start if lose.
9.Silver*2 Event:50,000 silver bag*4
10.Point Reduction Event: your Ludo points will be reduced correspondingly.
11.Mystical Shop: you can buy various items only once for each Mystical Shop event.
12.Wisdom*2 Event: 10,000 wisdom card*4
13.Temporary Bag: places where most of your rewards from Ludo are saved.

Super Ranking Rewards
Ranking
Rewards
1

Supreme Tresure Chest*10

Jewel Pack*65
Energy Vigour*200
2

Supreme Tresure Chest*8

Jewel Pack*50

Energy Vigour*180

3

Supreme Tresure Chest*5

Jewel Pack*35

Energy Vigour*150

4-10

Int Potion*250

Jewel Pack*20
Total Completion Rewards
Kinds of materials such as Chest of Seal Lvl.5 to Lvl.7, Mount Material Pack, Top Mount EXP Potion, Advanced Mount EXP Potion, Inheritance Orbs, Vestment Material Box, Xmas Sock and Xmas Ticket. Get new Xmas Coat Pack with a total completion of 97 times.
Some Tips:
1.When you meet Monster Fighting or BOSS Fighting event, and successfully defeat the targets, your rewards will go directly to your bag instead of Ludo's Temporary Bag.
2.Mystical Shop will disappear after you close the shop or exist Ludo
3.You will get 5 Dices and 3 Lucky Dices from Ludo everyday. Unused Dices can be stacked.
Exchangeable items this Xmas:
Exchange your Christmas Badges for Xmas items:
Exchange with Christmas Badge*300----New Supreme Hero Minos
Exchange with Christmas Badge*100----New Xmas Wings pack
Other exchangeable items include: Legendary Hero Choose Card, Beast Shard, Pumpking Shard, Erlang Shard, Odin Shard, Moirai Shard, Supreme Ornament Chest and many other rescources.
GTArcade Benefits:
GTArcade is offering FREE yet Limited gift codes for its games this Christmas. Be the first 1000 lucky players to get KF gift code. Check details here: http://www.gtarcade.com/christmas2015.
Deatails about new items:
Minos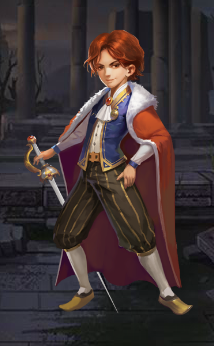 Quality: Supreme
Type: Divine
Star: 7.5
Skill: Special Hero Skill: 40% chance to activate each turn, deals 50 damage to all enemies (ignoring defense and bonus damage based on caster's MATK), increases the Crit of the member with the lowest HP by 50% of caster's MATK, reducts (ignoring immune) the AGI of the enemy with the lowest HP by 50% of caster's PATK, increases taken damage of this enemy by 60%, lasts for 2 turns, grants 3 Rage.
New Xmas Vestment: