In this Thanksgiving, give more thanks and be more grateful!
Knight's Fable has designed special events for this Thanksgiving.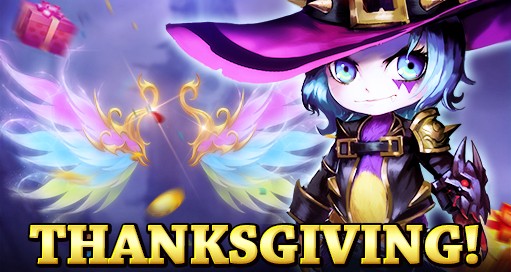 Event 1: Monopoly
Duration:Nov.26th to Dec.1st
Nov.26th to Nov.30th: compete in daily events and gain Monopoly points
Dec. 1st: claim total ranking rewards!
Description: Collect resources to win fancy rewards!
Rule:
1.Click Monopoly icon at the game window to open Monopoly menu!


2.Players gain certain points by collecting required resources during the event, i.e. Silver, Wisdom, EXP, INT Potion, Stardust, Prestige, Gem, Equipment Chest and so on.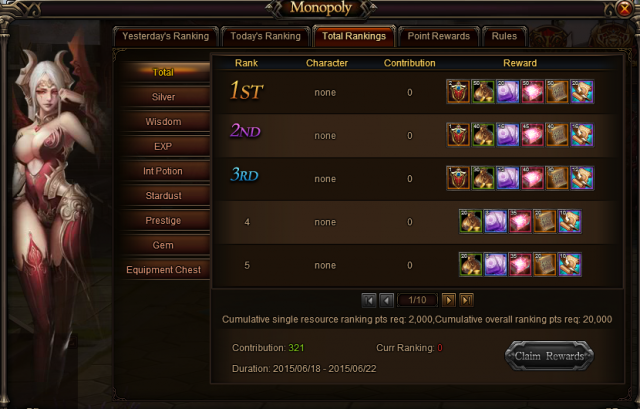 3.The grand prize will be issued at the conclusion of the event. Each day, point leaders can collect the related reward for yesterday's ranking.
Total Rank Reward:
Rank 1

Monopoly Badge*2

100,000 Silver Bag*50
50,000 Wisdom Card*20

Seal Stone*500

Meele Badge

*200

All Element Pack*10
Rank 2

Monopoly Badge*1

100,000 Silver Bag*40
50,000 Wisdom Card*16

Seal Stone*400

Meele Badge*170

All Element Pack*7
Rank 3


Monopoly Badge*1

100,000 Silver Bag*30
50,000 Wisdom Card*12

Seal Stone*300

Meele Badge*150

All Element Pack*5
Rank 4-5
100,000 Silver Bag*20
50,000 Wisdom Card*8

Seal Stone*200

Meele Badge

*130

All Element Pack*3
Rank 6-10
100,000 Silver Bag*10
50,000 Wisdom Card*4

Seal Stone*150

Melee Badge*100

All Element Pack*1
Point Reward: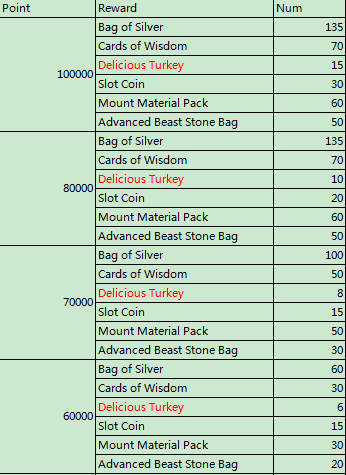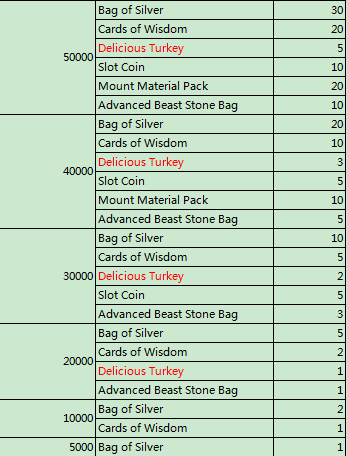 Event 2: Slot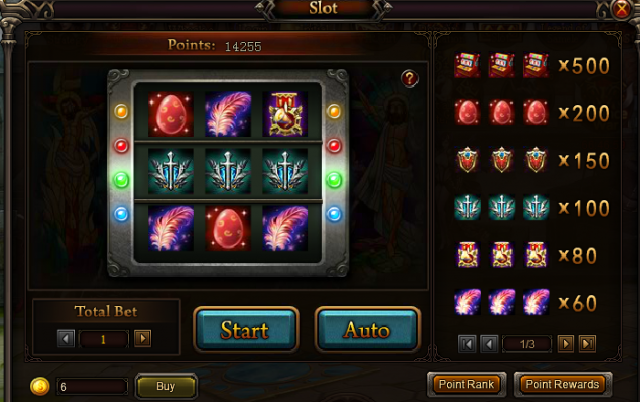 Duration:Nov.26th to Dec.1st
Nov.26th to Nov.30th: spin the slot to win points
Dec. 1st: claim total ranking rewards!
Rules:
1.In Slot,you can spin different items and win points according to the combos. You can also collect Turkeys from this event to exchange for your wanted items.
2.You can bet before every spin, and need to cost corresponding Slot Coins. In other words: the amount of coins you need to pay is equal to the bet you made. Higher bets give higher chances of high-point combos.
3.Special rewards will be given when you have 3 slots or Turkey Eggs in your combination.When you get 3 slots, you get 1 Lucky Star; when you get 3 Turkey Eggs, you get 1 Delicious Turkey. Different bets give different amounts of rewards. For example, if you have 3 Turkey Eggs with a 5 Bet, you will get 5 Delicious Turkeys. Note that you can only get at most 1 Lucky Star per spin no matter what bet you make
4.Five free chances are given every day. You can also collect more coins from shop and events.
5.Points will be given according to listed combos.Your earned points will be listed point*bet. After reaching required points, you can claim rewards from Point Rewards and Point Rank.
View Slots Rewards:
Daily Rewads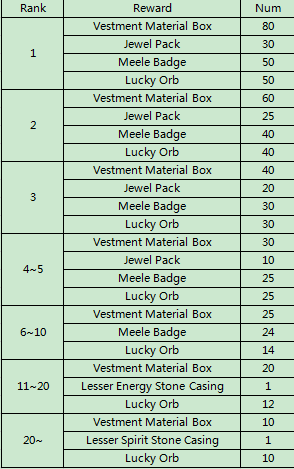 Total Rewards: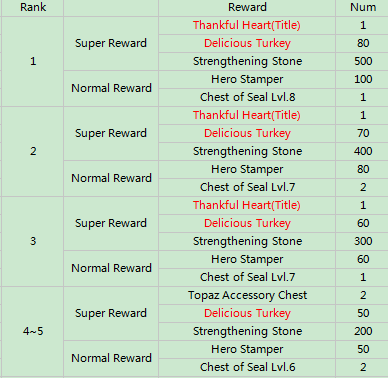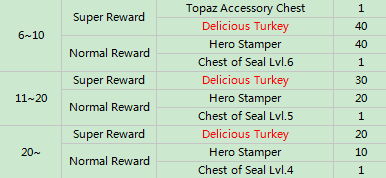 Special Rewards:
Festival Titles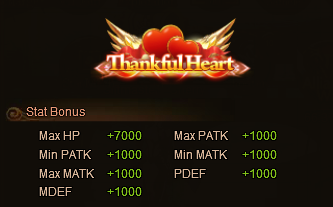 New Wings: Rainbow Wings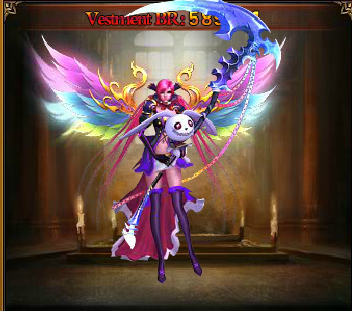 New Beast: Little Demon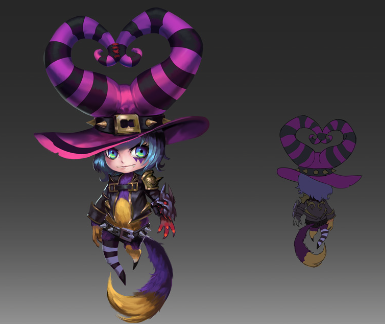 Beast Skill:
Deals mass damage to an enemy with the lowest HP (ignoring defense), resets all positive buff of this target (buff and immune stats), increases taken damage of this target by 50% for 2 turns, greatly increases Dodge and Crit of own party for 3 turns, grants 30 energy.
Note that the beast will be availale for exchange from Nov. 28th.
You can exchange for your wanted items with Delicious Turkeys.
How to get Delicious Turkeys

1.Monopoly Point Reward
2.Exchange with Monopoly Badge (Once)
3.Slot Rank Reward
4.Slot Point Reward
5.Login Reward
6.Duty Reward
7.Recharge Reward
8.Slot Drop