Play Camp War to win powerful mount Talbuk Ram and various materials.

Duration: Nov.1st to Nov.6th
Nov.1st to Nov.5th, play Camp War and win points;
Nov.6th, claim total rank rewards!


Condition: Above Lvl.40

Rules:
a. Every player has to choose a camp "Angel" or "Demon" after entering the event. System will control the difference of player numbers at two camps.
b. After entering the event, all players can take part in the daily event in game to earn contribution point for their own camp.
c. Camp War lasts for 5 days. Players can get ranking rewards only when they get 30,000 points or more at the completion of the event.
c. At the end of event, the camp which owns more contribution points will win and obtain the better rewards.
d. Players ranking tops can get abundant rewards.
e. Defeating rivals in Battle Shrine and Plunder Cargoes can get extra bonus. Check event explanations for detailed reward information.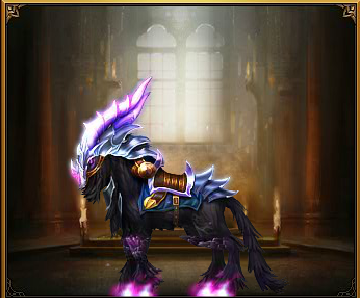 Talbuk Ram----Traning Upgrade: 2.1
Max Upgrade----15
Points Details
| | |
| --- | --- |
| Event | Score |
| Recharge 100 Gold | 200 |
| Join World Boss Once | 400 |
| Join Cross Server Arena Once | 300 |
| Finish City Defense Once | 300 |
| Complete Holy Throne Once | 200 |
| Finish Job Once | 50 |
| Transport Cargo Once | 200 |
| Plunder Cargo Once | 150 |
| Kill Orange Hell Portal Minion Once | 100 |
| Join Alliance Boss Once | 400 |
| Finish Alliance Task Once | 50 |
| Join Team Dungeon Once | 350 |
| Clear Hell Once | 50 |
| Fish Once | 50 |
| Challenge Battle Shrine Once | 50 |
| Challenge Maze Once | 250 |
| Join Beast Melee Once | 250 |
| Capture Servant Once | 100 |
| Join Expedition Once | 200 |
| Defeat Rival in BS Once | 50 |
| Plunder Cargo of Rival Once | 150 |
| Kill Red Hell Portal Minion Once | 200 |
Individual Ranking Reward
| | | | | |
| --- | --- | --- | --- | --- |
| 1 | Aura Vigour*110 | Advanced Combo Material Pack*110 | Melee Badge*110 | 50,000 Wisdom Card*22 |
| 2~3 | Aura Vigour*80 | Advanced Combo Material Pack*80 | Melee Badge*80 | 50,000 Wisdom Card*16 |
| 4~10 | Aura Vigour*60 | Advanced Combo Material Pack*60 | Melee Badge*60 | 50,000 Wisdom Card*12 |
| 11~20 | Aura Vigour*50 | Advanced Combo Material Pack*50 | Melee Badge*50 | 50,000 Wisdom Card*10 |
| 20~ | Aura Vigour*40 | Advanced Combo Material Pack*40 | Melee Badge*40 | 50,000 Wisdom Card*8 |

Camp Reward
Winning Camp
Normal Combo Material Pack*50

All Element Pack*5

Spirit Vigour

*50

Inheritance Orb*5

Losing Camp

Normal Combo Material Pack*30

All Element Pack*3

Spirit Vigour

*30
Inheritance Orb*3

Individual Contribution Point Reward
| | | | | | |
| --- | --- | --- | --- | --- | --- |
| 5000 | Talbuk Ram Shard*2 | Seal Stone*10 | Int Pot*15 | / | / |
| 10000 | Talbuk Ram Shard*2 | Seal Stone*20 | Int Pot*20 | / | / |
| 20000 | Talbuk Ram Shard*3 | Seal Stone*30 | Int Pot*25 | / | / |
| 30000 | 50,000 Wisdom*3 | Seal Stone*40 | Int Pot*30 | Talbuk Ram Shard*5 | / |
| 40000 | 100,000 Wisdom*2 | Seal Stone*50 | Int Pot*35 | Talbuk Ram Shard*7 | / |
| 50000 | 100,000 Wisdom*4 | Seal Stone*60 | Int Pot*40 | Talbuk Ram Shard*9 | / |
| 62000 | Talbuk Ram Shard*12 | 100,000 Wisdom*6 | Seal Crystal*100 | Int Pot*50 | Strenthening Stone*50 |
| 74000 | Talbuk Ram Shard*15 | 100,000 Wisdom*8 | Seal Crystal*150 | Int Pot*60 | Strenthening Stone*60 |
| 86000 | Talbuk Ram Shard*18 | 100,000 Wisdom*10 | Seal Crystal*200 | Int Pot*70 | Strenthening Stone*70 |
| 100000 | Talbuk Ram Shard*27 | 100,000 Wisdom*12 | Seal Crystal*200 | Int Pot*90 | Strenthening Stone*90 |