Each player would like to play Monopoly as you can always get so much resources in game. Collect All Element Pack in Monopoly.
Duration:October 17th to October 22nd
October 17th to October 21st to compete in daily events and gain Monopoly points
October 22nd: claim total ranking rewards!
Description: Collect resources to win fancy rewards!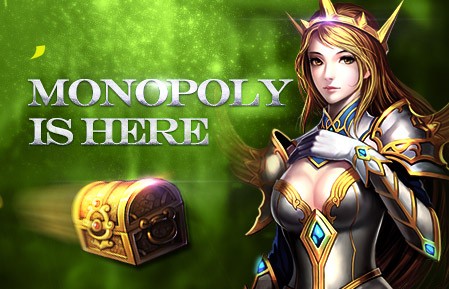 Rule:
1.Click Monopoly icon at the game window to open Monopoly menu!


2.Players gain certain points by collecting required resources during the event, i.e. Silver, Wisdom, EXP, INT Potion, Stardust, Prestige, Gem, Equipment Chest and so on.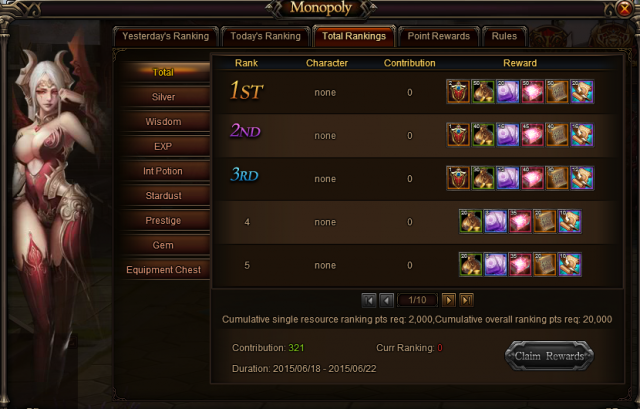 3.The grand prize will be issued at the conclusion of the event. Each day, point leaders can collect the related reward for yesterday's ranking.
Total Rank Reward:
Rank 1

Monopoly Badge*2

100,000 Silver Bag*50
50,000 Wisdom Card*20

Top Tier Mount EXP Potion*20

Meele Badge

*200

All Element Pack*10
Rank 2

Monopoly Badge*1

100,000 Silver Bag*40
50,000 Wisdom Card*16

Top Tier Mount EXP Potion*15

Meele Badge*170

All Element Pack*7
Rank 3


Monopoly Badge*1

100,000 Silver Bag*30
50,000 Wisdom Card*12

Top Tier Mount EXP Potion*10

Meele Badge*150

All Element Pack*5
Rank 4-5
100,000 Silver Bag*20
50,000 Wisdom Card*8

Top Tier Mount EXP Potion*5

Meele Badge

*130

All Element Pack*3
Rank 6-10
100,000 Silver Bag*10
50,000 Wisdom Card*4

Top Tier Mount EXP Potion*3

Melee Badge*100

All Element Pack*1
Point Reward:
Reach 65,000 points totally in Monopoly


Supreme Accessory Chest*1




Seal Stone*500

Reach 55,000 points totally in Monopoly

Monopoly Badge*1

Reach 40,000 points totally in Monopoly

Seal Stone

*200

Strengthening Stone*100
Taboo Pill*50
Reach 25,000 points totally in Monopoly
Seal Stone*150
Meele Badge*80

Reach 15,000 points totally in Monopoly
Seal Stone*100
All Element Pack*5
Reach 10,000 points totally in Monopoly
Taboo Pill*10
New exchangeable Items
All Element Pack
Supreme Accessory Chest
Strengthening Stone
Taboo Pill