Each player would like to play Monopoly as you can always get so much resources in game. Play Monopoly to win as many Artifact materials as you can.
Duration: June.18~June.23.
June.18~June.22 to compete in daily events and gain Monopoly points
June.23: claim total ranking rewards!
Description: Collect resources to win fancy rewards!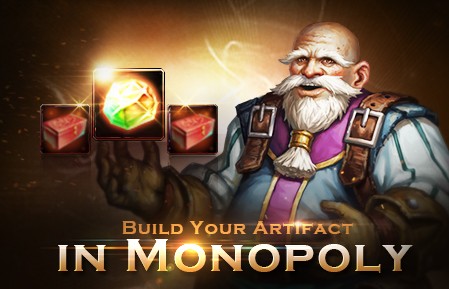 Rule:
1.Click Monopoly icon at the game window to open Monopoly menu!


2.Players gain certain points by collecting required resources during the event, i.e. Silver, Wisdom, EXP, INT Potion, Stardust, Prestige, Gem, Equipment Chest and so on.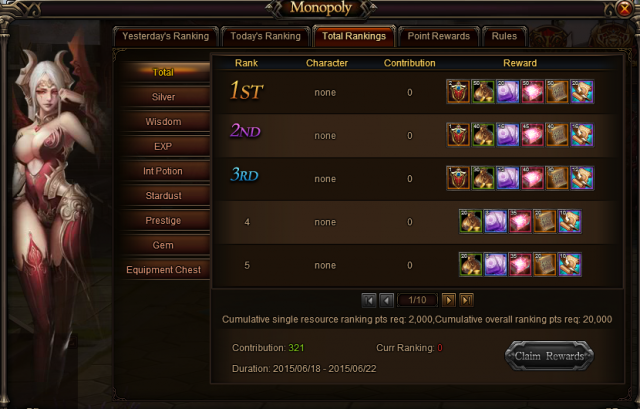 3.The grand prize will be issued at the conclusion of the event. Each day, point leaders can collect the related reward for yesterday's ranking.
Total Rank Reward:
Rank 1
Monopoly Badge*2
100,000 Silver Bag*50
50,000 Wisdom Card*20
Pandora's Mythical Box*50
Melee Badge*50
Training scroll-10 training exp*20
Rank 2
Monopoly Badge*1
100,000 Silver Bag*40
50,000 Wisdom Card*16
Pandora's Mythical Box*45
Melee Badge*40
Training scroll-10 training exp*16
Rank 3
Monopoly Badge*1
100,000 Silver Bag*30
50,000 Wisdom Card*12
Pandora's Mythical Box*40
Melee Badge*30
Training scroll-10 training exp*12
Rank 4-5
100,000 Silver Bag*20
50,000 Wisdom Card*8
Pandora's Mythical Box*35
Melee Badge*20
Training scroll-10 training exp*10
Rank 6-10
100,000 Silver Bag*10
50,000 Wisdom Card*4
Pandora's Mythical Box*30
Melee Badge*15
Training scroll-10 training exp*8