We are very glad to inform you all that Carnival will return on Jan.14 with new rewards. Obtain cards in the Carnival to exchange large amounts of awesome rewards, and even the new Beast.
Carnival
Duration: Feb.27th~Mar 4th
Note:
You can get rewards till 23:59 in Mar
Server:
All servers
Description:
Obtain cards in the Carnival to collect cards to exchange the awesome rewards,such as new Beast.
Condition:
Get certain numbers of required cards to exchange it.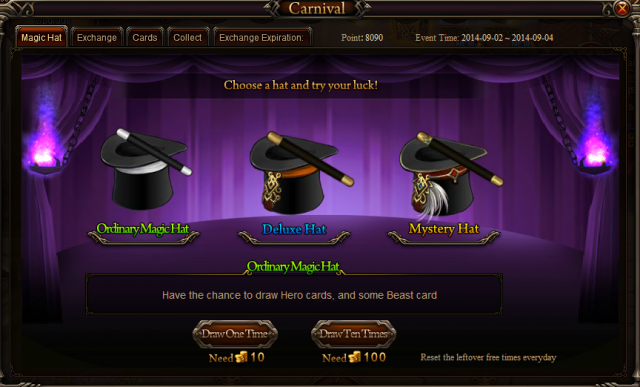 Rules
1.Players can obtain cards in the Carnival by selecting the Magic Hat tab in the interface of game.
2.There are three types of magic hats: the Common Hat, Deluxe Hat and the Mystery Hat.
3.One Common Chest costs 10 Gold, one Deluxe Chest costs 30 Gold, and one Mystery Chest costs 100 Gold.
4.You can get offered 3 Common Hats for free each day.
5.Once you drew a set of cards from a hat, you can exchange it for other awesome rewards! Your remaining cards can be exchanged for points. Points can be traded for specific Cards. This will allow you to finish your card sets more efficient.
Click here for details of playmode.
Reward screenshot
The hot event Carnival will take place between Jan.14~Jan.19. Take a look at the new Beast!

New Beast: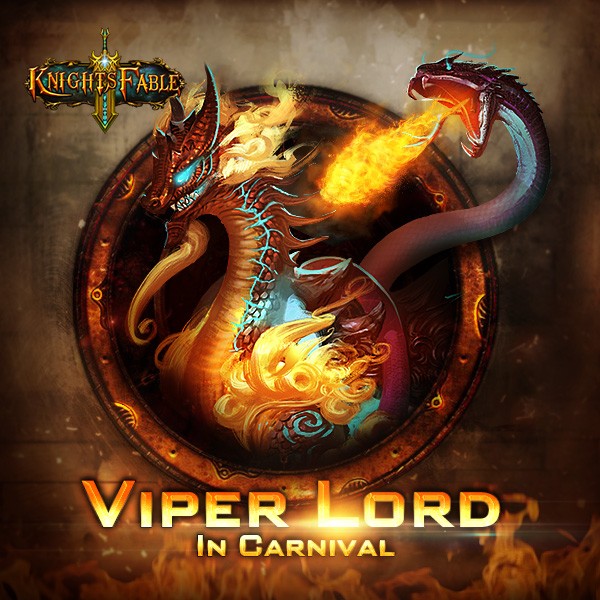 Skill in Lvl.1: Sky Devour
Effects: Deals 1800 Damage to all enemies (ignoring defense), recovers HP of all party members based on the damage, inflicts Dizziness to a random target for 2 turns.

Stats:
Endow Char: HP+124
Endow Party: Stats+19
Battle Bonus:

PDEF MDEF+22 PATK MATK+22

Reward

You can exchange the awesome rewards from Carnival!

Viper Lord
Unholy Blood Wolf

Astral Tiger

Special Card - Michael

Astral tiger shards bag
Mount Orb x 10
Lucky Orb x 10
Jester Cat

Lvl.1 Orange Star Stone Bag

Super Aura Stone Casing

Super Energy Stone Casing
Super Spirit Stone Casing
Beast training exp scroll
500,000 Wisdom card
2,000,000 Bag of Silver
1000 x stardust
1000 x prestige
Legendary Reputation Pack x 50
Aura Stone Casing

Energy Stone Casing

Re-roll Token
Lvl.1 INT Potion Box
Melee Badge × 10
inheritance orb
Spirit Stone Casing

Drill


Daily Top 20 players who have got 1000 points at least will get super rewards.
| | | |
| --- | --- | --- |
| Daily Ranking | At least 500 points daily | At least 1000 points daily |
| 1st | Magic Rune x 15 | Magic Rune x 35 |
| 2nd | Magic Rune x 10 | Magic Rune x 30 |
| 3rd~5th | card points x 100 | Magic Rune x 25 |
| 6th~10th | card points x 70 | Magic Rune x 20 |
| 11th~20th | card points x 50 | card points x 200 |

At the end of the event, the Top 20 players who have got at least 10000 points will get super rewards,such as those rare cards and star stones bags!
| | | |
| --- | --- | --- |
| Ranking | Accumulatively at least 5000 points | Accumulatively at least 10000 points |
| 1st | Moirai(Card) x 1, Melee badge x 200 | Michael(Card) x 1, Lvl.3 Orange Star Stone Bag x 2 |
| 2nd | Moirai(Card) x 1, Melee badge x 160 | Michael(Card) x 1, Lvl.3 Orange Star Stone Bag x 1 |
| 3rd | Moirai(Card) x 1, Melee badge x 120 | Michael(Card) x 1, Lvl.2 Orange Star Stone Bag x 1 |
| 4th~5th | Moirai(Card) x 1, Melee badge x 100 | Lvl.3 Orange Star Stone Bag x 2, Lvl.2 Orange Star Stone Bag x 2 |
| 6th~10th | Moirai(Card) x 1, Melee badge x 80 | Lvl.3 Orange Star Stone Bag x 2, Lvl.2 Orange Star Stone Bag x 1 |
| 11th~20th | Moirai(Card) x 1, Melee badge x 60 | Lvl.3 Orange Star Stone Bag x 1, Lvl.2 Orange Star Stone Bag x 1 |