Lucky Strike will start on January 10th again. Spin the Lucky Strike to win large amounts of Silver, Wisdom, Gem, and even fantastic Amethyst accessories!
Event duration:
January 10th to 13th.
Note:
You can get reward from 0:00 to 23:59 in January 14th.
Server:
All servers
Description:
Spin the Lucky Strike for a chance to win Amethyst accessories, when spending a certain amount of Lucky Vouchers.
Rules:
There are two wheels, the Lucky Strike and the VIP Wheel.
1.Spinning the Lucky Strike costs 1 Lucky Voucher per time.
2.Spinning the VIP Wheel costs 10 Lucky Vouchers per time. Only VIP3 players and above may use the VIP Wheel.
3.You can spend Lucky Card to purchase special items in Shop of Luck.
4. The remaining Lucky Vouchers can be used in future Luck Strike events.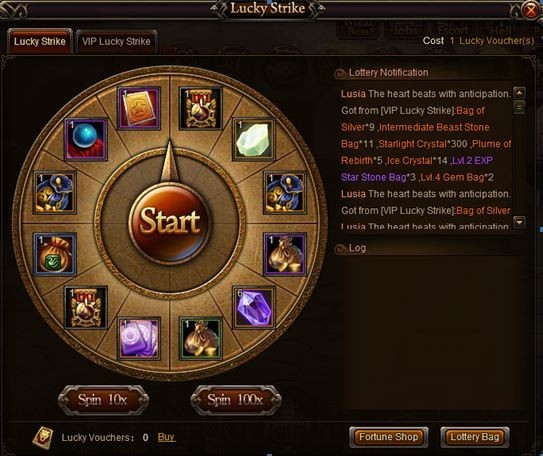 Ranking Rewards:
1. Daily Top 5 wheel spinner who have used at least 80 points will get extra rewards.

2.At the end of the event, the Top 5 wheel spinner who have used at least 200 Lucky Vouchers will have a chance to get extra Stardust, Gem Bag and even Amethyst accessories!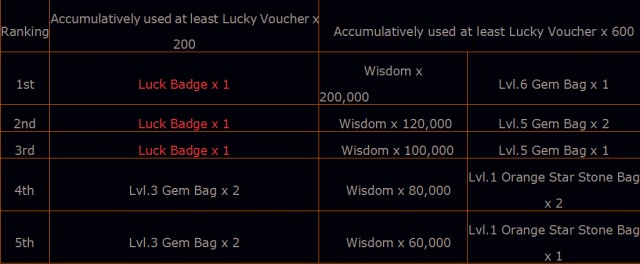 Note: luck badge can be used to exchange special items at in-game event menu.
2. Lucky Card shop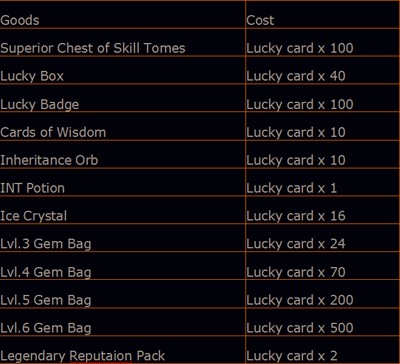 3. Contents in lucky box:
Amethyst Accessory Chest, Pandora's Legendary Box, Variation Dust Pack, Cards of Wisdom, INT Potion etc.